Buy now
Deliveries only to Finland until further notice
Polar Light Low
Buy now
Deliveries only to Finland until further notice
Sizes
Description
A warm short-shaft winter boot with a water-repellent textile shaft and 100% waterproof TPR rubber toebox.
The model has a synthetic pile lining and insulating, water-repellent Thinsulate membrane (400 g). The top of the boot has fast-lock, reflective laces for tightening the boot. The back of the boot has reflective material in the area above the ankle. These reflective materials do not replace a CE-approved reflector.
The shaft-width can be adjusted with quick-release mechanism, and a pull-on loop makes the boot easier to put on. The well-fitting boot has a non-slip tread pattern. The sizes correspond to standard winter shoe sizes – precise measurements can be found in our size chart.
The rubber toebox and the sole are made of synthetic TPR rubber. Material can withstand cold temperatures of -40 °C  but not more than  +60 °C.
Product info

Features

Measurements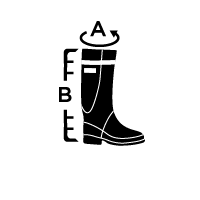 Ankle height
Teddy lining 100% polyester
Water-repellent textile shaft with Thinsulate mebrane (400 g)
Fast-lock tightening
Adjustable leg opening with bellows
Reflective laces
Reflective material above ankle at back
Reflective materials do not replace the use of CE approved reflector
Pull-on loop at the back of shaft
Cleated outsole
100% waterproof rubber toebox (TPR)
Well-fitting last
Sizes correspond to standard winter shoe sizes


| | | |
| --- | --- | --- |
| Size | B Length cm | A Width cm |
| 36 | 23,7 | 8,3 |
| 37 | 24,4 | 8,5 |
| 38 | 25,4 | 8,7 |
| 39 | 26,2 | 8,9 |
| 40 | 27,2 | 9,1 |
| 41 | 27,7 | 9,3 |
| 42 | 28,6 | 9,5 |
Conversion chart
| | | |
| --- | --- | --- |
| EU | US | UK |
| 34 | 2,5 | 1,5 |
| 35 | 3,5 | 2,5 |
| 36 | 4 | 3 |
| 37 | 5 | 4 |
| 38 | 5,5 | 4,5 |
| 39 | 6,5 | 5,5 |
| 40 | 7,5 | 6,5 |
| 41 | 8,5 | 7,5 |
| 42 | 9 | 8 |
| 43 | 10 | 9 |
| 44 | 10,5 | 9,5 |
| 45 | 11,5 | 10,5 |
| 46 | 12 | 11 |
| 47 | 13 | 12 |
| 48 | 14 | 13 |
| 49 | 14,5 | 13,5 |
| 50 | 15 | 14 |