Buy now
Deliveries only to Finland until further notice
Verso garden shoe
Buy now
Deliveries only to Finland until further notice
Description
The light, waterproof garden shoe has a wide fit and an outsole that is easy to keep clean. This easy-to-slip-on shoe also features a pull-on loop.
The waterproof, unlined shoe is made of synthetic EVA rubber material that can withstand -40°C degrees but do not withstand heat more than +40°C degrees. Comes with a removable EVA insole. Perfect for the garden or just stepping outside. The shoe is easy to clean after wearing it in dirty and muddy conditions.
Available in black, yellow and fuchsia red colours.
Cleaning: wash with soapy water and a sponge. Drying/storage max +40°C
Product info

Features

Measurements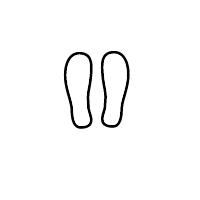 Extra light garden shoe
Ankle height
Pull-on loops
No lining
Material EVA-rubber
Cleated outsole
Loose insole
Easy to clean
Drying/storage max +40°C


| | | |
| --- | --- | --- |
| Size | B Length cm | A Width cm |
| 37 | 25,3 | 8,5 |
| 38 | 26,0 | 8,7 |
| 39 | 26,7 | 9,8 |
| 40 | 27,3 | 9,1 |
| 41 | 28,0 | 9,3 |
| 42 | 28,6 | 9,5 |
| 43 | 29,4 | 9,7 |
| 44 | 30,0 | 9,9 |
| 45 | 30,7 | 10,1 |
| 46 | 31,3 | 10,3 |
Conversion chart
| | | |
| --- | --- | --- |
| EU | US | UK |
| 34 | 2,5 | 1,5 |
| 35 | 3,5 | 2,5 |
| 36 | 4 | 3 |
| 37 | 5 | 4 |
| 38 | 5,5 | 4,5 |
| 39 | 6,5 | 5,5 |
| 40 | 7,5 | 6,5 |
| 41 | 8,5 | 7,5 |
| 42 | 9 | 8 |
| 43 | 10 | 9 |
| 44 | 10,5 | 9,5 |
| 45 | 11,5 | 10,5 |
| 46 | 12 | 11 |
| 47 | 13 | 12 |
| 48 | 14 | 13 |
| 49 | 14,5 | 13,5 |
| 50 | 15 | 14 |