Buy now
Deliveries only to Finland until further notice
Finntrim
Buy now
Deliveries only to Finland until further notice
Sizes
Description
An ankle-high specialty rubber boot that is popular among orienteers, suitable also for cross-country running and golf.
This low, narrow-legged model features a tightening strap around the collar. A light and supple boot that still offers support for the foot. Finntrim model has a steel shank for enhanced walking properties. The outsole pattern is finished with rubber studs, to ensure good grip on any terrain, including slippery surfaces. Sole can be fitted with studs.
Handmade of a natural rubber compound.
Colour Olivo Nuovo (dark green).
Product info

Features

Measurements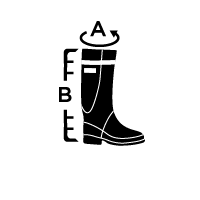 Size 37
A: 31 cm
B: 27,5 cm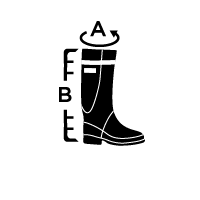 Size 42
A: 34 cm
B: 28 cm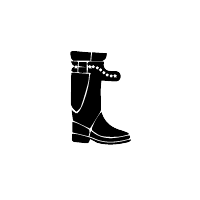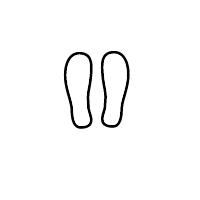 Tightening strap
Quick-drying polyester lining
Reinforced heel cap
Spur for easier removal
Shock-absorbing heel structure
Rotationally rigid midsole
Steel shank
Toe reinforcement
Sole can be fitted with studs
Comfortable narrow-legged fit


Size
B Length cm
A Width cm

| | | |
| --- | --- | --- |
| Size | B Length cm | A Width cm |
| 34 | 22,4 | 8,05 |
| 35 | 23,1 | 8,2 |
| 36 | 23,8 | 8,35 |
| 37 | 24,5 | 8,5 |
| 38 | 25,2 | 8,65 |
| 39 | 25,4 | 9,00 |
| 40 | 26,1 | 9,15 |
| 41 | 26,8 | 9,30 |
| 42 | 27,5 | 9,45 |
| 43 | 28,2 | 9,60 |
| 44 | 28,9 | 9,75 |
| 45 | 29,6 | 9,90 |
| 46 | 30,3 | 10,05 |
| 47 | 31,0 | 10,20 |
| 48 | 31,7 | 10,35 |
Conversion chart
| | | |
| --- | --- | --- |
| EU | US | UK |
| 34 | 2,5 | 1,5 |
| 35 | 3,5 | 2,5 |
| 36 | 4 | 3 |
| 37 | 5 | 4 |
| 38 | 5,5 | 4,5 |
| 39 | 6,5 | 5,5 |
| 40 | 7,5 | 6,5 |
| 41 | 8,5 | 7,5 |
| 42 | 9 | 8 |
| 43 | 10 | 9 |
| 44 | 10,5 | 9,5 |
| 45 | 11,5 | 10,5 |
| 46 | 12 | 11 |
| 47 | 13 | 12 |
| 48 | 14 | 13 |
| 49 | 14,5 | 13,5 |
| 50 | 15 | 14 |